Editors: Corrie Hiwat & Harry van der Zee, MD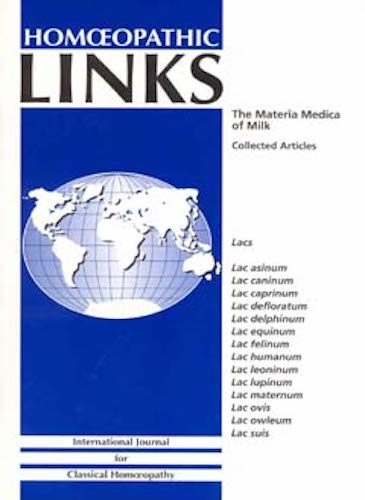 Published 2002
Soft cover, bound
15x22 cm, 264 pages
ISBN 90-807103-2-6
Price: €34,95 excl. mailing costs
Book Summary
This book contains a wealth of information from provings, cases and group analysis on lacs in general and fourteen lacs in particular: Lac asinum, Lac caninum, Lac caprinum, Lac defloratum, Lac dolphinum, Lac equinum, Lac felinum, Lac humanum, Lac lupinum, Lac leoninum, Lac maternum, Lac owleum and Lac ovis.
The following internally well known authors and teachers have contributed articles to this book: Divya Chabra, Kees Dam, Patricia Hatherly, Nancy Herrick, Jessica Jackson, Linda Johnston, Jacques Lamothe, Patricia LeRoux, Anne Nidecker, Manish Panchal, Uta Santos, Joan Scott Lowe, Tinus Smits, Annette Sneevliet, Alize Timmerman, Frans Vermeulen, Jörg Wichmann, Anne Wirtz, Ananda Zaren and Harry van der Zee.
© 2022 Homeolinks Publishers. All Rights Reserved.