A gift for you and your family
Janita Venema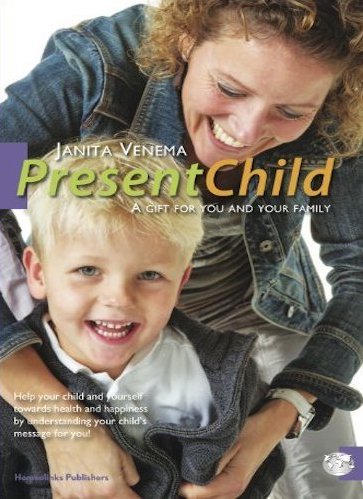 Published 2012, soft cover, bound, 16x25 cm, 240 pages
ISBN/EAN 978-94-90453-06-0
Translator: Jean Thompson
Price: €29,95 excl. mailing costs
Book Summary
The PresentChild® Method shows clearly how your child's dedication to your happiness in life is just as active and fierce as yours is to theirs. The only difference is that your child uses the languages of play, development, behaviour or symptoms, to make clear what needs adjustment in your life. Using the PresentChild® Method your child's instructions are 'translated' so precisely that you are able to hear them with your heart, recognize their truth and are motivated to undertake the necessary actions. This not only enriches your life but also has a positive effect on your child's behaviour and well-being, often without additional help for your child! With the aid of practical instructions and exercises and Janita's accessible, recognizable story the chance that you too will be touched by your child is high.
Janita Venema is initiator of the 'PresentChildR® Method'. She has developed a methodical approach, which enables us to understand what children have to say about their parents' lives. Consultations, parent courses, lectures, PresentChild Translator Training and childcare and education modules are all available via www.presentchild.com
© 2023 Homeolinks Publishers. All Rights Reserved.