Studying with Cartoons
By Alexander Gothe / Julia Drinnenberg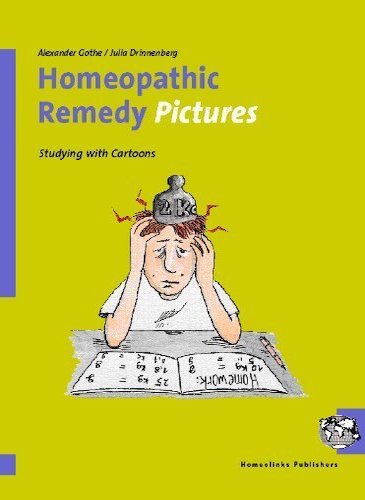 Published 2007
Soft cover, bound
20x27 cm, 212 pages, 669 cartoons
ISBN 978-90-807103-4-4
Translator: Petra Brockmann
Price: €44,95 excl. mailing costs
View sample pages
Book Summary
This is how learning should be. Fun! Memorizing, analysing, repertorising, theorising, philosophising - homeopathy is full of mental labour. Alexander Gothe presents in this book well-written information on fifty homeopathic remedies, to which Julia Drinnenberg has added 669 hilarious cartoons to make for fun learning and easy memorizing.
A good shaking of the belly can be 'just what the doctor ordered', for students, patients and homeopaths. Alexander and Julia have offered this very remedy to us with this marvellous book.
Useful for study as well as to offer leisure in the waiting room.
© 2022 Homeolinks Publishers. All Rights Reserved.